www.boartlongyear.com
echipamante si scule de foraj
1.Drill Rigs
1.1 Multipurpose drill rigs – DB (DeltaBase) Series
Applications: geotechnical drilling (soil sampling and test), micro piles, water well drilling, etc.
Drilling method
: continuously coring, rotary and percussive (down-the-hole) drilling


1.2 Exploration drill rigs– LF and LM Series
Applications: surface (LF) and underground (LM) long-hole coring


2. Drilling Tools and Accessories

2.1 Coring tools and accessories :
core barrels (conventional and wireline), diamond bits, reaming shells, drill rods and other required accessories (wrenches, subs, drilling fluids etc).

2.2 Down-the hole (DTH) tooling :
DTH bits, DTH hammers, rods, subs etc.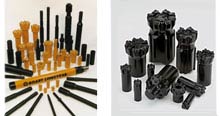 2.3 Geotechnical drilling tools :
Tungsten carbide (TC) bits, drill rods, sampling systems, special drilling strings.